7 Ways to Prevent a Gray Divorce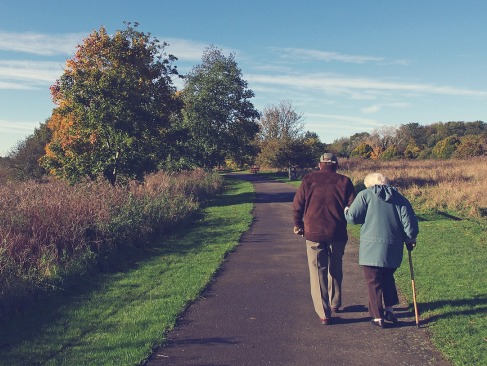 Although the overall divorce rate in this country is shrinking (see marriage statistics here), recent headlines and reports have indicated that the divorce rate is climbing for couples in the 50-and-over age bracket.
Interested in preventing further erosion of "gray relationships," renowned gerontologist Dr. Karl Pillemer surveyed 700 men and women, ages 60 and up, to ask their opinions about how to keep the spark alive. Details can be found in his book "30 Lessons for Loving: Advice from the Wisest Americans on Love, Relationships and Marriage," but here are his main findings:
1. Happy couples are willing to share new interests and embrace their partner's interests. This is important even if it's an activity or hobby they don't really care for that much; Pillemer says it's worth trying. One couple in the study included a golf "widow" and a golf enthusiast. When his wife decided to learn the sport and join her husband on the golf course, he reported it was a dream come true. He'd hoped for years that she would play golf with him.
2. While a romantic spark is important, it's a real friendship between two partners that matters most over the long haul. After retirement, couples typically spend more time together. It's hard to be with someone for extended periods every day if you don't enjoy spending time together!
3. In successful long-term relationships, remembering the "little things" makes a big difference. Partners who help each other with small, routine matters, who show appreciation and add occasional surprises, keep their relationship fresh and their love alive.
4. Older healthy couples do in fact have active sex lives, and value being in good shape physically, as well as maintaining an appealing appearance. Often, the concept of sexual intimacy expands to include simply the pleasure of touch.
5. Of interest to note, Dr. Pillemer discovered that couples growing old together see each other as physically looking the same over the years – a great way to halt the aging process!
Study participants also endorsed the value of couples counseling. People who had been in previous marriages wished they had attended couples therapy prior to calling it quits. In hindsight, they realized how important it is to feel that you did everything you could to try to save the relationship. Lingering guilt or regret over "not trying hard enough" could likely have been avoided with some professional help.
Below are suggestions for keeping love alive in the later years, but they can enhance a couple's relationship at any stage:
1. Each partner agrees to try one of their significant other's hobbies, sports, or other interest that they haven't previously participated in.
2. If suggestion #1 doesn't apply or work out, decide on a new activity that interests both partners and learn about it together.
3. Focus on everyday little things that you appreciate about your partner. These "microinteractions" create positive connections that can have quite a big impact and really add up.
4. Surprise your partner with thoughtful gifts: perhaps that new tennis racket he or she has been eyeing, or tickets to something you could do together, such as a theater performance you know she'd enjoy, or a sporting event he'd like to attend.
5. Expand on #4 by scheduling a weekly date night. It can be something as simple as an evening stroll through the neighborhood, or as adventurous as taking that hot air balloon ride you've heard about.
6. Regularly compliment your partner and show your appreciation for his or her presence in your life. Everyone wants and needs to feel that he or she is valued and loved.
7. Even if a couple has no particular problematic issues to deal with, attending a few couples counseling sessions can enhance or "tune up" any relationship.
In summary, in order for a long-term relationship to flourish, it requires effort and an ongoing attentiveness. While there will undoubtedly be periods that are challenging and difficult, the end reward can definitely be worthwhile.